ok, I'm almost ready to release this table,some other test, new tilt, if I can ... and something else to fix. I put a lot of effort into it (much less than batman) but with great accuracy.
I tried to create the system of lights and shadows-maps, as in
Star Trek Condition Red .... but I'm very far from how it does "slam"...make
I am not "slam",and not also a far relative
,so,better than that, I can't do,at least for now.
I did many things, I used the "new renderer activated",few lights on the table, allows me to play.
and I used...SetLights
DarkNight
,shadow-maps....and everything else that I use, except the lights that change color, not necessary ... since it is not an update, but a first release....and something new,obviously, that is in theme, of the type of table.
what I hope is, that before the release, Rav, released a new version of Bam, with the function, which can be activated or not, by the script, regarding this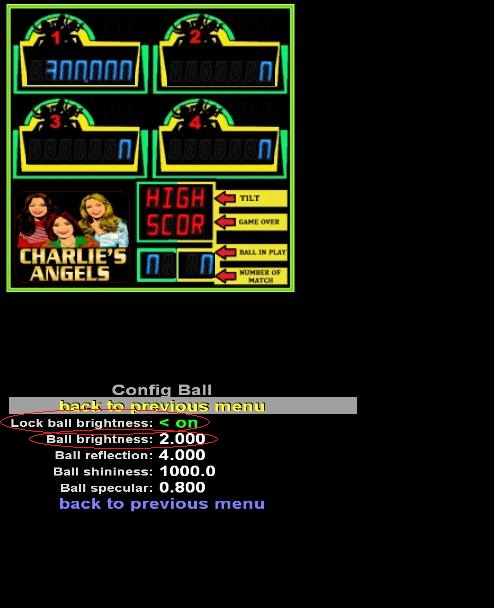 which for now is not working in script, so.. with the SetLights [color = # 00FF00] DarkNight [/ color].....the custom ball, and also the normal ball, is seen very dark, the textures are not seen, that's why of ball brigtness to 2.000 value....even if I put the clear values here..look in green
CharliesBall_1 = xBAM.BallManager.DefineCustomBall(
252, 224, 224
, "cb1", "334", "269")
CharliesBall_2 = xBAM.BallManager.DefineCustomBall(
255, 255, 25
, "cb2", "334", "269")
ok, I hope you like this table, I keep creating tables using Bam, it doesn't matter if people don't download it, because you have to use Bam ....... DEAR friend, (who doesn't download the table) you have to learn to use Bam
because with what I said and I think here ....
viewtopic.php?f=2&t=5577&start=610
people do not download the tables with Bam ... I see it from the downloaders ...... not is it possible that all my tables with Bam have very few dowloaders,and (not counting batman, that I have to see how it goes)and others without Bam, have a lot of downloaders,for me this is inconceivable.
.......and I confirm my hypothesis by seeing also this .. ... TX Sector 1.1
http://www.pinsimdb.org/pinball/table-24827-tx_sector
sorry for my words, and thank you all.